We work with our own consultants who provide high integrity and professional qualification, having strong and relevant experience both in the public sector (developing and managing European funding programs financed under pre/ post accession funds or national public funds, developing institutional and legal framework for the implementation of investment programs with public funds) and in the private sector (preparation, implementation and monitoring of European projects, training, elaboration of different studies etc.).
The team is complemented by external experts, including a prestigious Romanian law company.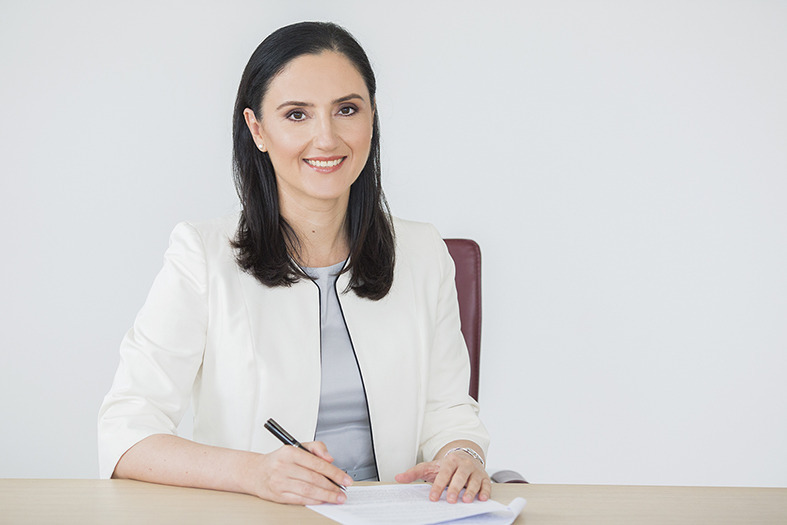 Alice Bîtu is the CEO of the company
"To us, it all starts with building strong relationships with our clients, either public or private. This is based on a good understanding of their objectives and expectations and enforced by our commitment to support their projects as if they were ours, with our honest and professional approach and resources engaged. It means that we engage honestly and professionally from the beginning, with all the resources at our disposal. We like to face complex challenges and we are very proud when we offer the best solutions for the customer and we see that every project we manage is a step forward for the community. It is an accomplishment to see that our work contributes to local and regional development, creates jobs, leads to prosperity. I am proud of my team and I strongly believe that performance and results so far are due to the team spirit, impeccable moral and professional conduct and fair business practices promoted by Aqua. "
Bachelor of Economics (ASE), MA in International Political Economy (University of Tsukuba Japan), Alice is a consultant with over 8 years experience in the private sector and more than 10 years in the Ministry of Finance, including former Secretary of State as coordinator of European funds and state aid during the period 2006-2008.
To continuously develop our portfolio of consultancy services, we partnership with prestigious companies in Romania and develop our database with external consultants who are specialists in a comprehensive range of consultancy disciplines.
Access to complementary consulting resources is available promptly, whenever it is needed, in order to provide customers with personalized consultancy services that are matched perfectly to the characteristics of each individual project.
AQUA FINANCIAL CONSULTING believes that personal excellence, diversity of opinions, creativity and team spirit are the best ways to find effective solutions to any problem. The people who join us are, naturally, committed to this agenda.
Want to join a team in which every individual is valued, and where you can showcase your expertise and skills?
Are you a student and do you want to gain practical experience with a professional team?
Send your CV, accompanied by a letter explaining what motivates you, to: office@aquafc.ro
When registering your application in our data base, you will be contacted immediately.